Our caring and compassionate veterinary care team!
Meet the Team of Animal Medical Center of Cascades in Sterling, VA! We're pleased to provide exceptional vet care for your pets! Please call us at 571-434-0250 to speak to one of our caring veterinary staff members!
Licensed Veterinary Technicians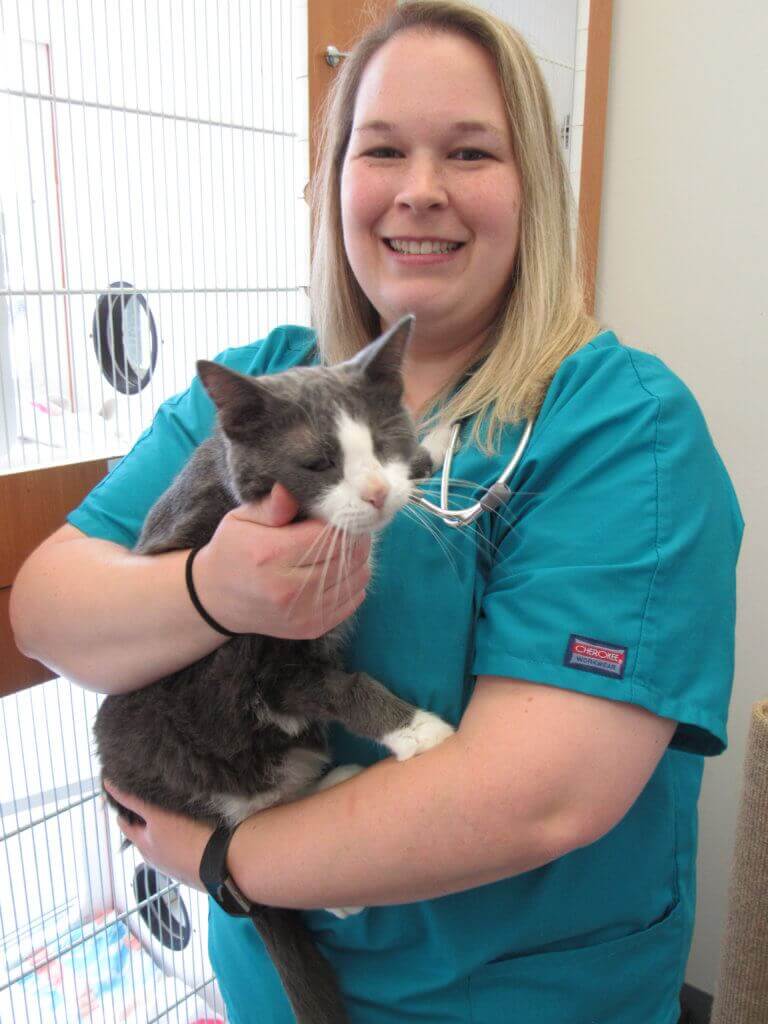 Sarah, LVT
Sarah joined Animal Medical Center in July, 2019. A native of Virginia, she grew up in Woodbridge and has resided in Centreville for the past 15 years. She has been in the veterinary field for over 17 years. Sarah began in a small animal mixed practice in high school and quickly realized her love for felines. She spent the next four years at a feline only practice in Fairfax, where she started her Veterinary Technician degree at Northern Virginia Community College. After graduating and obtaining her Veterinary Technician License in 2010, she began work with a veterinary dental specialist. Over the 10 years working with the specialist, she received her Veterinary Technician Specialist (Dentistry) by passing the exam in June, 2016 and becoming one of 80 in the world to hold the specialty certificate. In her spare time Sarah enjoys baking, backpacking, and spending time with her family.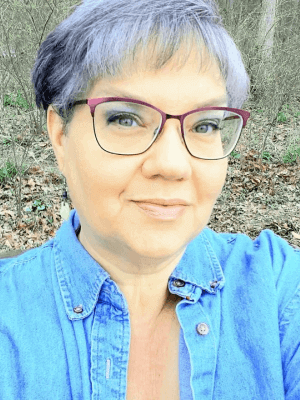 Christa, LVT
Christa has been part of the AMC family since 2009, and is one of our gifted vet techs. She is a dedicated animal lover and has over 20 years of experience working with companion animals, wildlife, and zoo animals! One of her passions lies in regenerative medicine and working with senior pets. Keeping older pets healthy and healing from illness is both challenging and rewarding for her. When she isn't working, you may find Christa driving down the highway on one of her famous road trips or riding her bike on the local trails.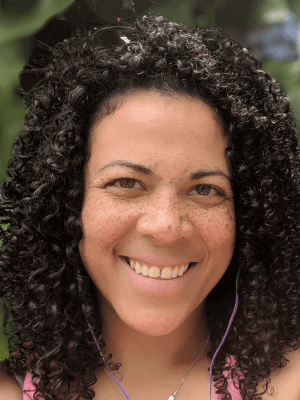 Estelle, LVT
Estelle has a degree in art, but her first job out of college was in the veterinary field. She fell in love with it and decided to make it her career. She worked in emergency veterinary medicine for 10 years before coming to AMC, where she runs anesthesia care, monitors our hospitalized patients, and helps with appointments. She enjoys working with families throughout their pet's development. Estelle has two cats at home, Teadora and Esmeralda, and a Doberman named Hawthorne. She also has over 100 house plants!
Outpatient Team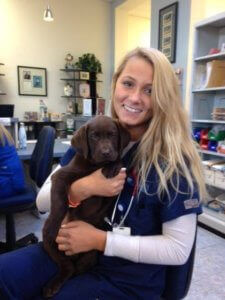 Madison, Veterinary Assistant
Madison came to the veterinary field because she loves animals and medicine. She is a passionate animal lover and finds the most rewarding part of her role is being a part of the growth of a patient from puppyhood to adulthood. She is lucky enough to see many of her patients through all stages of their lives.
Madison's pets are two Labrador retriever dogs named Lincoln and Jackson, and a one-eyed cat named Jeff. In her free time, Madison loves getting outdoors—in the summer she is always on the Chesapeake Bay or on the Potomac River hiking, while in the winter you will always catch her skiing!
Bryan, Front Desk, Kennel Attendant
Bryan has lived in Loudoun his whole life, and has had many different animals as pets. Bryan joined the AMC team in 2014 and loves ensuring every pet is well taken care of. Bryan is here on the weekends, he does a little bit of everything around the clinic! We have yet to find something that he isn't keen to help with. Bryan has a passion for automobiles, and his favorite activity in his free time is taking apart and putting an engine back together!
Matt, Veterinary Assistant
Matt has lived in the Northern Virginia area all of his life and growing up with Jack Russel Terriers instilled a love of animals at a young age. Matt joined the veterinary field over eight years ago and has been a part of our team at AMC for the past year and a half. When he isn't working, you'll likely find Matt enjoying time with his family, which includes his 5-year-old son and significant other.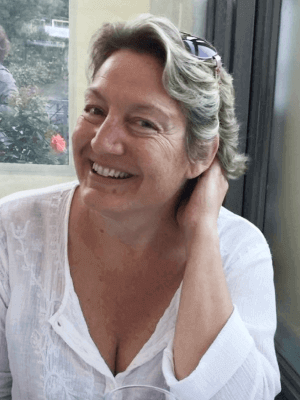 Yvette, Front Desk
Yvette works at our front desk, and she's a gem! She moved to the US from Europe in the early nineties, and as a lover of dogs, she spent over a decade working as a partner/owner in one of Loudoun County's first pet-sitting agencies, Best Kept Pets. It earned "Loudoun's Best" (twice!) in the Washingtonian. After closing her agency, Yvette continued to work with dogs for 11-1/2 years. During those years, Dr. Mitchell was the vet for all 5 of her dogs, which lead to the obvious choice of joining our team.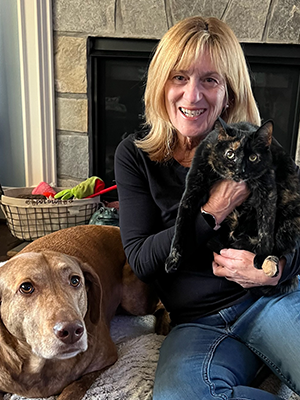 Jean, Bookkeeper
I have had a variety of interesting jobs during my career ranging from climbing telephone poles to a Medical Assistant prior to working at AMC. Our family over the years has had Guinee Pigs, Fish, Jelly fish, and currently we have 2 rescue cats & 1 rescue dog. I was a former client of AMC and loved it so much, I wanted to work here. I enjoy seeing all the pets coming in, meeting the owners and especially enjoy working with such an awesome team.
Kennel Staff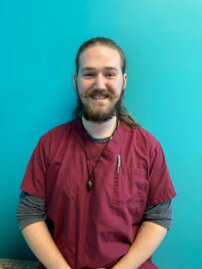 Roarke, Kennel Attendant
Roarke has been a part of the AMC family since the fall of 2019. A man of many talents, Roarke works with the kennel animals, boarding guests, and helps out all over the clinic! The favorite part of his work is taking dogs on long walks, and he can always be found giving a cuddle to an animal in need. Roarke is a proper movie buff, so be prepared for a long chat if you stumble into his favorite topic! Roarke is an MVP here and is always willing to help out whenever he's needed!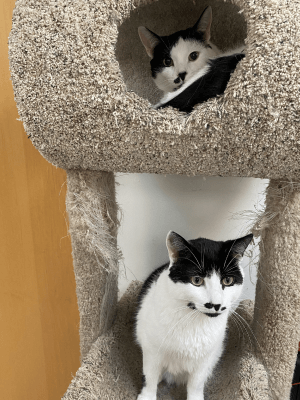 Emely
Emely takes care of the animals in the clinic and helps wherever she can. She completed a veterinary science class during her senior year of high school, and she wants work where she can follow her love of animals. She has a cuddly Chihuahua at home.
A big thank you to all of our high school kennel helpers.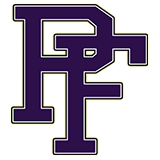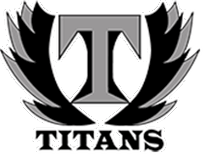 AMC Cascades Groomers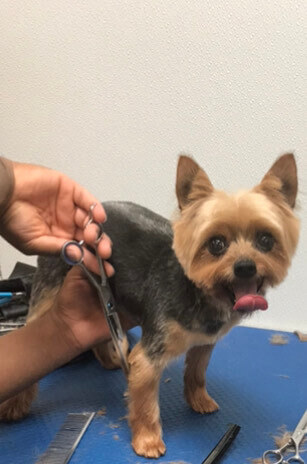 Danny, Groomer
Danny has been working in pet salons for over 12 years, and has worked with everything from Chihuahuas to Great Danes!
His goal is to give you—and your fur baby—a top-notch experience that is brag-worthy. After all, there's no greater tip than seeing you happy.